Description
Mouse Geocaching Container
This realistic little guy tucks in just about anywhere–at the base of tree or bush, in a knot hole, along a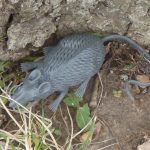 ledge, under a light skirt, etc.  His body is approximately 3″ from nose to behind, then his tail is approximately 4″ long and curls behind him.  The mouse is made of a gray rubber material and has a watertight, screw-top container attached underneath him.  The mouse geocache container comes complete with geocaching log rolled and loaded, it's all ready to hide!
You will need to note on your geocaching.com listing that the seeker will need tweezers (or our handy log rolling tool!) to remove the log from the geocaching container.  The log will need to be rolled back up tightly when re-inserted into the container.
For a great multi-stage or series, see our other Critter Geocaching Containers to go along with your mouse.  We have every kind of critter or bug geocaches available–worms, horseflies, caterpillars, roaches, spiders, butterflies, turtles, frogs, and more!