Description
PVC Geocaching Container Set-Up
This is a complete pvc pipe cache set up that is ready to be placed anywhere from a power/phone pole on a country road to the side of a business in the middle of town.  The ingenious set-up includes a hitch pin at the bottom to keep the cache container inside the pipe–the finder simply pulls out the hitch pin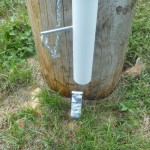 & the cache container drops out the bottom.  To put the cache back after signing the enclosed log, they just put the hitch pin back in the bottom, pull the cap off the top pipe, drop the geocaching container back in the pipe, and replace the cap.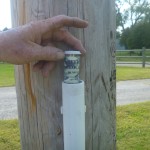 Step-by-step instructions & photos are included with your PVC geocaching container set-up.  You will need a cordless drill (or a regular screw driver & some strong muscles!) and you might want to use a level, but everything else you will need is included.  Putting the set-up together is easy and shouldn't take you more than a few minutes.
All quality materials and a one-of-a-kind cache set-up make this one a must have for any cache hider!