Description
Bird Nest Geocache Container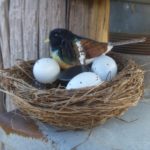 We've switched up the design on these to make them a little more hider friendly! There is a super-strong rare earth magnet embedded in the bottom of the nest. We're including a large-head nail that can be hammered into any tree stump, fence post, etc., for the magnet to attract to & hold the nest in place. You can also easily place this cache on any metal surface, such as an electrical box, and it will stay in place. The finder can lift the entire cache set-up down to retrieve the cache container resting inside. This set-up eliminates the need to wire the cache in place, the visible wire (so this one is even more natural to its surroundings), as well as other cachers tearing the cache up trying to remove the log container.  Of course it can still be hidden in the traditional way but you'll have many more options with this design.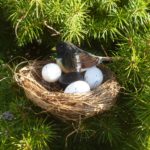 The nest is made of natural brown straw and varies from approximately 3-1/2″ to 4-1/2″ in diameter.
There's a fake little bird, made of foam and feathers, and 3 plastic eggs attached to each cache set-up. The bird is guarding the cache container itself, which is one of our Shorty Sam watertight containers, and it sits inside the nest snugly. We're including 2 large-head nails (an extra just in case) for your cache placement. Logs are included and already inserted into the container.  It's ready to go!