Description
Rubber Ducky Micro Geocache Containers are ready for you to unleash on the Geocaching world.  Small enough to have a variety of uses but regardless of where your duck ends up it's guaranteed to bring a smile to the finder.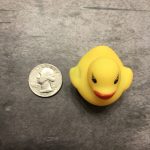 Each duck is approximately 1.5″ x 1.5″ and made of vinyl. The log holder container affixed to the duck is water-proof with a screw-top lid. A strong neodymium magnet is affixed inside the lid. Log is pre-inserted.
Available in various quantities, the more you buy the cheaper they are!