Description
Micro Nano Geocache Log Rolling Tool
This clever little tool makes it easy to tightly roll even the tiniest of log sheets.  Simply slide the log between the halves of the cotter pin and twist it up.  Then pull it off the end of the pin and it's ready to insert into the container.  It can even be used to remove a snug log from a container–just gently insert the pin into the middle of the log in the cache, twist a little, and pull it right out!  No more tweezers, toothpicks, or even (yes we're guilty too) a dangerous pocket knife to remove those stubborn logs.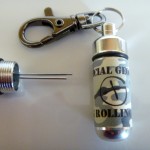 The geocaching log rolling tool is a stainless cotter pin contained in a standard  bison tube with a water-resistant camo label.  No more poking holes in your caching bag or stabbing your finger with an exposed pin!  Attached to the bison tube is a sturdy metal swivel clip so you can clip the tool onto your belt loop, caching bag, car keys, etc., and remove it with ease.
These tools also make great gifts or prizes for your caching meetings & gatherings!