Description
Set of 3 Snail Geocaches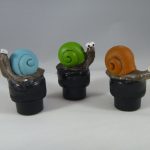 Each of these cute little snails sit on top of a magnetic Shorty Sam Cache.  The snail is made of painted resin in a variety of shell colors (green, blue, and orange) and styles, and comes with the log inserted into the cache. With each order you will receive 1 of each style of snails for a total of 3 ready-to-hide geocache containers.
Great for creating your own Series Cache!  Whimsical and fun, these micro caches can be used just about anywhere.  Picture one of those cute little guys peeking out from under a light skirt, maybe sitting inside a guard rail…or out in the countryside holding onto a fence post.  The possibilities are endless!
Approx. 1-1/2″ tall, varying with style.