Description
Simpson's Character Geocache Container & Swag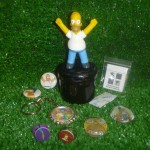 Whether you're buying for a young geocacher to hide, or you're simply a big kid at heart, you'll love these fun magnetic cache containers.   Loaded with swag, a log in a zip bag, and a silica gel pack, they're complete and ready to hide.
The hand-crafted swag within is related to the cache and includes a key chain, glass
stones, buttons, and rings.  There will be at least 6 pieces of swag in each container.
The approximate height of each Geocache Container is: Marge 5-1/4″, Homer 4-1/2″, Bart 4″, Lisa 4″ and Maggie 3-3/4″.  They are each approximately 2″ around.
The container will tuck in just about anywhere you want to place it, from the hollow of a tree to a light skirt, from your basic urban hides to out in nature.  Because it is loaded with swag we don't recommend hiding it upside down–the magnets will definitely hold it but the contents may force the lid open & the swag to spill out.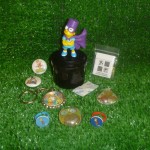 We only have a limited number of these containers, when they're gone they're gone.  Order yours today!