Description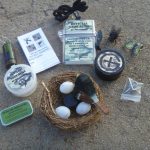 This Up A Tree Cache Container Variety Pack is perfect for any area with trees or bushes, light poles or fence posts, and makes a great multi set up. Even the micro magnetics can be placed easily with the large-head nails included in the pack. Best of all is the price–you'll save big time over the individual cache price!
Included (see individual cache descriptions for measurements & details):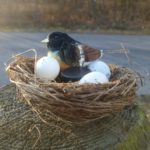 1 Birds Nest Cache, Magnetic Set-Up
1 Watertight Flip-Top Cache with Cord for hanging
1 Lg Bison Tube (camo or black, varies) with O-ring
2 Fat Boys Snap-Top Caches (one black, one clear) Magnetic
1 Micro Slide Tin Cache (camo or green label, varies) Magnetic
1 Butterfly Cache (color may vary) Magnetic Micro
1 Horsefly Cache Magnetic Micro
Extra nails for mounting
Total of 8 complete cache containers, all with logs included.