Description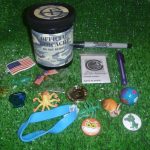 Geocache Tub of Swag is a geocaching container that comes complete with a fine-point permanent marker (brand of marker will vary) for labeling, a log in zip bag, mini ink pen, and it's even loaded with swag for trading.
The tub is very sturdy, made of medical grade black plastic.  It is approximately 3-1/2″ tall & 2-3/4″ at lid.  There is a camo (colors may vary) waterproof label on the front of your geocaching container for you to put cache details and another waterproof label on the lid with the geocaching logo.
Geocache hiding doesn't get any easier than this!  This is a really nice quality geocaching container that will stand up to the elements no matter where you choose to place it.  The camo designed geocaching label will help it blend in with natural surroundings–plus it just looks nice!  Sure to impress your fellow geocachers.