Description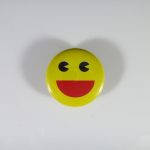 Super strong neodymium magnets make these fun buttons perfect for the geocaching gang–which among us don't like anything magnetic??
1″ buttons–wear them on your hat, purse, or pack…use them for prizes & swag in your caches…or trade with friends. Magnets are strong enough to hold the button through most materials. Each comes packaged in a small zippy bag and each variety set of 5 is shipped in a small plastic case.
Because these are small and magnets can be dangerous if swallowed, they are not recommended for use around small children.