Description
The Ketchup Cache micro container looks so real it's sure to bring a smile when the seeker figures it out.  A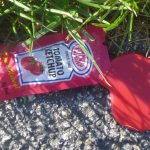 realistic thin plastic "pouch" with a puddle of ketchup appearing to have squirted out the top.  The geocaching container itself (a micro clear plastic tube) is hidden in the back of the pouch, has a flip-top lid, is water-tight and comes complete with a rolled log inside.  Size of container, with puddle, is approximately 4-1/2″ high by 3″ wide.
We're only making a limited number of these geocaching containers, get them while you can!
Click here to download the replacement log or use the Micro Snap Top Vial log on our download page.
Please note, when you publish your geocache hide to geocaching.com, that the finder will need tweezers (or even better, one of our micro log rolling tools!) or a similar tool to remove the log.  The log will then need to be rolled very tightly to be put back in the very small geocache container.  This particular geocaching container is very light-weight and will need to be placed with that in mind.  We recommend further disguising your geocache container with a rock or other heavier item on top to hold it in place.