Description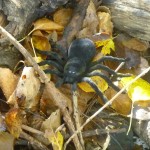 This large black spider geocache container is approximately 7-1/2″ x 4″.  On an elastic cord, you can easily tie it to a branch to hang, it can sit in any outdoor camouflage such as leaves or logs, or tuck into a knot hole or hollowed out stump.
Non-magnetic, the spider made of light-weight black plastic with flocking.  The container is watertight with a screw-top lid.  Log is already inserted and it's ready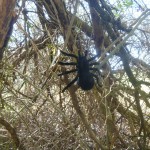 to hide.
We have a limited number of these containers available, get yours while you can!