Description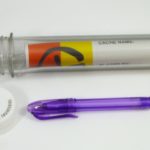 Preform Geocache Tube With Log & Pen is a container every geocache hider needs a few of in their inventory. Sturdy, water-tight and inexpensive, there's no end to the possibilities for their use.  Small enough for your urban hides (approximately 5-1/2″ long with lid in place) but large enough not to get lost in rural settings, it really is the perfect non-magnetic cache container.  Container lid color may vary.
Each cache tube comes pre-loaded with a large log sheet with plenty of places for signing and a mini ink pen (color & ink color may vary).
Click here for your FREE replacement log downloads.