Description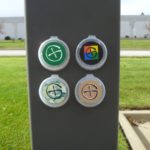 Skinny Sue Geocaching Container
Skinny Sue is a super low-profile magnetic geocaching container, measuring only 7/16″ tall (approx.) & 1-5/8″ around.  Made of strong medical-grade plastic, they're practically indestructible.  We use only the strongest neodymium (rare earth) magnets available to keep your geocaching container in place.
The low-profile cache container can be tucked in anywhere it can attract to a metal surface, making it extremely versatile.  Under a park bench, awning, light skirt, or fuse box are just a few of the ways they can be used.  Our favorite?  Hammer a roofing nail in a tree stump or under a dead log and let the magnetic geocache attract to the nail.  Makes for an evil geocache hide!
Each geocache container comes complete with a log in a zippy bag.
The waterproof labels on top of the geocache container come in green camo, solid green, solid black with 4 color logo, or solid tan, all with a stylish geocaching logo.