Description
Tiny Black Geocaching Tube
Made of medical-grade black plastic with water-tight snap top lids.  Great for making your own unique caches. Non-magnetic, watertight & value priced! Logs not included but can be downloaded for FREE on our log replacement download tab (home page at the top right) or click here.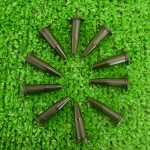 The tiny geocaching tubes are approx. 1-1/4″ tall and 3/8″ around at top, tapering down to a point. The part of tube that log fits in is approx. 1/2″ long.  Available in multi-packs, the more you buy the more you save.
Please note when you post your new geocache hide to geocaching.com that the seeker will need tweezers (or our handy log rolling tool!) to remove the log from the container.  The log will need to be rolled back up tightly when reinserting back into the geocaching container.